Brierley Hill primary school wanted banners designed and printed to demonstrate their achievements in that years Ofsted report. The brief included the use of the colour purple (school colours) and rainbows (school logo).
Use of the colour purple (school colours)
Include rainbows, as these are present in the school logo
Having a quick walk around the school I noticed a number of boards that featured a nice print purple - Pantone 256c. As for rainbows that was easy - who doesn't like rainbows!? Especially double rainbows!

The main aim with this design was to emphasise the "Good" status achieved and pay particular consideration that these banners would most likely be read from roadside as members of the public drove past. It would therefore need text that was bold and eye-catching, the thumbs up in the letter O adds this flair.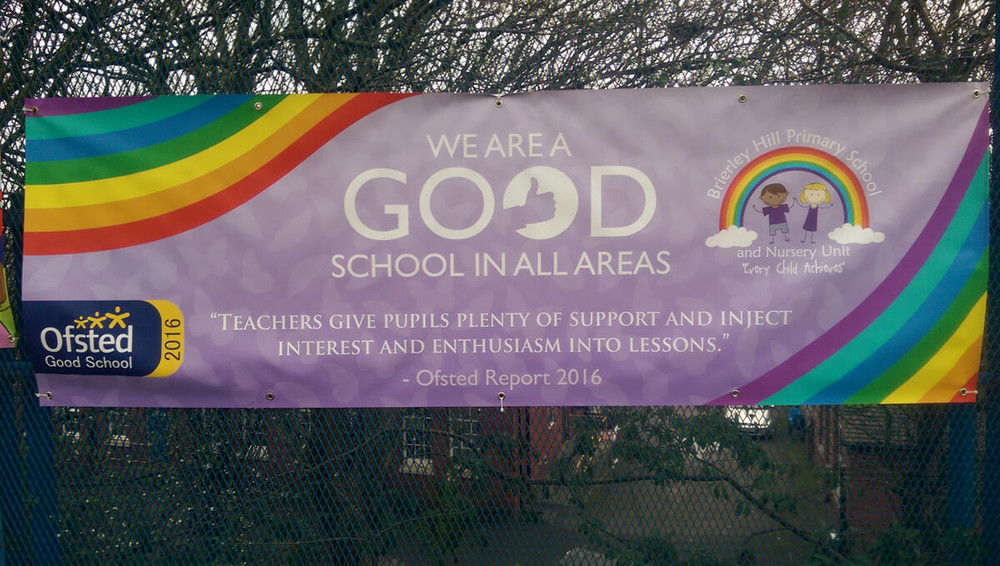 Two banners were printed onto PVC at 1m x 3m and featured two different quotes. One was placed on the front railings of the school and the second at the rear, both on busy roads where they were visible to passing traffic.